Welcome to SKGA (Since 1952)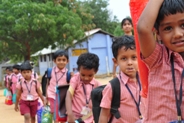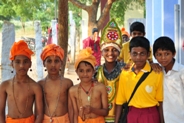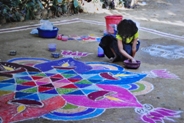 Children First! That is our main priority here at Sri Kanyakumari Gurukula Ashram, referred to as SKGA.
ChildrenFirst! Is our main priority SKGA
SKGA is a non-profit organisation selflessly fulfilling a vital social responsibility of servering abandoned infants, children who have lost either one or both of their parent, destitute and neglected children - all of them needing love, care and protection.
SKGA offers the childre n total care, education and habilitation free of cost. We help them to enjoy their childhood and begin a new way of life with peace, joy, health, happiness, hope and to regain their self-image, self-confidence and dignity. The children are cared for regardless of sex, age, culture, creed, caste or community.
At SKGA, the children are cared for from childhood to young adulthood and till every one is habited. On this website you will see the good work that has been done by SKGA by means of dontations and the dedication of volenteers. You will see happy children that have been given more than just food and education. This dirrives from the mantra in our daily prairs - Om Sakthi - Om is accepted as the primordial sound in the universe. universe. Sakthi translates into positive moving energy.
Family care Friendship Education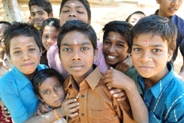 Our name and brief history
The founder, Mrs. V. Alamelu Ammal (referred to as The Mother), based the organisation on concepts of ancient ashrams and gurukulams and its services applied modern methods of child care and welfare - Read more about Our history. The Mother felt that the ashram should be friendly and caring, give peace, and help in every one's unhindered personal development.

Sri Kanyakumari Gurukula Ashram
Sri

- Is a Sanskrit word meaning 'auspicious'. It is also used as a word or address of respect
Kanyakumari

- I

s the

name of the Virgin Goddess in the historic and most famous Temple called by Her name in the Kanyakumari, Tamil Nadu district, South India. There is a famous Gayatri Mantra in Her name in very old spiritual texts containing teachings of great value. They speak about the Soul or 'Atman' of Man.
Gurukula -

Is a Sanskrit

word. The Guru is a mentor, a guide or a teacher who teaches and guides his students or disciples. 'Kula' means the house, family or tradition of the Guru. The students stay with the Guru in his house till the completion of their studies.

From ancient times, a gurukula

has been a place

where children go to live and study under a guru (mentor).
Ashram

- Translates to

a

house of peace

and abundance

.

It is the place where people seeking spiritual enlightenment could gather to meditate and lead peaceful lives and seek knowledge.